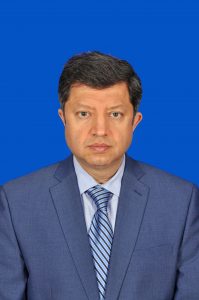 Keynote Speaker – 1
Biography:
Dr. S. Ismail Shah is the ITU Area Representative for Southeast Asia and Head of ITU office for Southeast Asia and Timor-Leste. He is a renowned ICT professionals, with expertise and experience spanning IMT (3G, 4G, 5G) based cellular technologies, Internet, spectrum management, Internet of Things, Child Online Protection and Rural Broadband. With an extensive background in technology implementation, ICT policy-making and regulations.
Dr. Shah also served as the Vice-President of the General Assembly of the Asia Pacific Telecommunity (APT) and Chairman of the Pakistan Telecommunication Authority where he led many high profile initiatives that changed the landscape of the telecommunication sector of Pakistan.  He has been a keynote speaker and a sought-after panelist on major global events.
Dr. Shah holds a Ph.D. in Electrical Engineering from the University of Pittsburgh, USA. He is a Senior Member of IEEE, USA and Member of the Institute of Electronics Information and Communication Engineers, Japan and has more than 100 technical publications.
The Role of Digital Science in Sustainable Development
Abstract:
The Sustainable Development Goals (SDGs) and targets will stimulate action over the next several years in areas of critical importance for humanity and the planet.  As acknowledged by the 2030 Agenda for Sustainable Development, the spread of information and communications technologies and global interconnectedness has great potential to accelerate human progress, to bridge the digital divide and to develop knowledge societies, as does scientific and technological innovation across areas as diverse as medicine and energy.   Digital Science and technologies can play a very important role to achieve the SDGs. Technologies like advancement in broadband (advanced 4G and 5G), Artificial Intelligence, Blockchain, 3D printing, Internet of Things (IoT) will not only play a critical role in moving the country towards the Fourth Industrial revolution but pave the way for the fulfilment of these the SDGs.
This talk will focus not only on the role digital technologies and digital science but the solutions that need to be developed and the research that need to be carried out, can play in achieving sustainable development goals by 2030. Thus achieving progress in a comprehensive manner without leaving anyone behind.
Keynote Speaker – 2
Biography: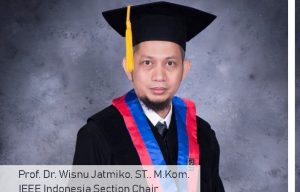 Professor Dr. Eng. Wisnu Jatmiko S.T., M.Kom., Born in Surabaya, Wisnu Jatmiko received his Bachelors degree in Electrical Engineering from The Faculty of Engineering and M.Sc. degree from The Faculty of Computer Science, both are received from Universitas Indonesia in 1997 and 2000 respectively. In 2007, he received his Dr. Eng. degree from The Micro-Nano Systems Engineering, Nagoya University, Japan. Currently, he works at the Faculty of Computer Science, University of Indonesia, Indonesia as a lecturer and from September 2017 become a full Professor. With his guidance, his students have succeeded in entering several top universities in the world, such as Tokyo University, Nagoya University, Edinburgh University, Minnesota University, National University of Singapore, etc.
Development of Intelligent Smart Telehealth System for Indonesian Healthcare
Abstract:
Indonesia is a nation located in South-East Asia that extends 5.120 kilometers from the east to the west. In addition to the large area, the archipelago has more than 17.000 islands, where five of them are considered as the main islands. However, Indonesia still face problems in several sectors, one of which is healthcare. One of the most prominent problem is the uneven distribution of specialists between islands of Indonesia, particularly Cardiologists and Obstetricians. Roughly 44% of Cardiologists in Jakarta are base in Java, while 24% of Obstetricians in Indonesia are located in Jakarta. In addition, the country is also experiencing high fetal and mother mortality rate. One of the major factors that caused this issue is the lack of growth monitoring. Based on the afore mentioned problems, we have developed a Smart Telehealth System for Indonesian Hospitals. The general aim of a Telehealth System is to conduct remote consultation and to exchange healthcare information between the patient and the doctor. In our developed Telehealth System, there are two sub-systems: Tele-USG and Tele-ECG System. The Tele-USG is a mobile-based system which covers end-to-end process, from doctor consultation, fetal progress, to USG fetal measurement. In addition, an intelligent module that automatically detects and measures the biometrics of the fetus is implemented in this system by approximating the organs using Hough Transform-based curve. The module could calculate the Head Circumference, Biparietal Diameter, Abdomen Circumference, Femur Length, and Humerus Length. The Tele-ECG System is also a mobile-based end-to-end system. The system could obtain the patient's heartbeat by using ECG Sensors. From the ECG sensors, the data is processed by using Baseline Wander Removal (BWR), Beat Segmentation, Wavelet methods to reduce the dimension. The signal is then transferred to a mobile device. In addition to these features, the system could also classify arrhythmia based on the ECG data. The system used AMGLVQ classifier, which has been proven accurate in classifying heartbeat signals. Before transferring the data to a Cardiologist in the main islands of Indonesia, the data is compressed using 2D SPIHT Compression, with a 24 lossless compression ratio. With this Telehealth System, it will help to reduce mortality rate for Cardiovascular disease related death and for the Fetal and Mother.